Command the Cloud with Fognigma Solutions
At Booth #1041 at DoDIIS 2022 Worldwide Conference
Fognigma is a suite of cybersecurity products designed to protect and empower industries such as the Department of Defense, the intelligence community, the private sector, academia, and FVEY partners. Mission success demands innovation, adaptation, collaboration, and true protection – and Fognigma provides them in a single package. See the Fognigma product suite in action at DoDIIS Worldwide 2022 and learn our cutting edge, patented technologies will allow your organization to maintain strategic and technical advantage.
Stop by Fognigma Booth #1041 today to schedule a private, custom demo of your choice
Demos will include:
Secure Video Conferencing

Encrypted Mobile Messaging and Voice Apps

Secure Virtualized Desktops

Mission Partner Environments

Open Source Research

Secure Remote Access

Managed Network Attribution
Mattermost-Conclave - Encryption Made Easy
Message encryption has been largely unchanged for years, requiring complex, lengthy administration to effectively protect information and users, ultimately discouraging encryption practices across organizations. Conclave is a proprietary encryption technology that automates the creation and management of user encryption keys, enabling users to collaborate more efficiently and safely via Mattermost messaging and focus on mission activities. Conclave protects Mattermost communications so only the intended recipients can view messages, whether they are trusted or untrusted.
WISP
Protect your authentication endpoint by decentralizing it with Fognigma's Wisp technology. Wisp bundles user authentication information into a cloud-hosted microinstance that allows users to access sensitive information and resources without needing to access Fognigma servers directly, protecting infrastructure and other users from malicious inside actors. Access sensitive information securely and maintain strategic and technical advantage with our Zero Trust networks.
Fully Encrypted File Share - Erebus
File encryption can be troublesome and complicated, requiring extensive administrative effort to provide full protection. Erebus applies Conclave encryption technology to automate the management of encryption keys, providing a fully encrypted file sharing solution without requiring additional administration. All encryption is user-specific, so users can only decrypt files assigned to their account. Erebus provides protection against inside and outside threats, ensuring files remain protected even if they fall into the wrong hands.
Video conferencing allows intelligence organizations to communicate more efficiently, from screensharing to "face to face" conversations. Security is essential to any video conferencing solution, and Fognigma's speakeasy technology allows for that with the use of encryption, and the use of disposable, user-specific access points that remove any correlation from users or servers. It is adaptable to any device and allows for video conferencing with trusted and untrusted parties.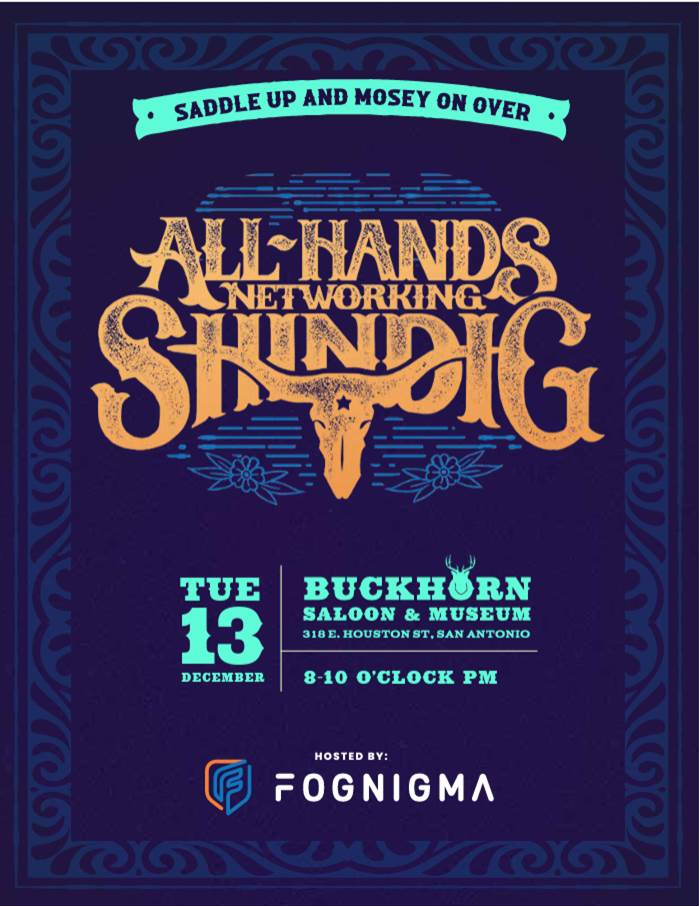 Join Us Tuesday, December 13th from 8PM-10PM at the Buckhorn Saloon & Museum.
318 E. Houston St. San Antonio
The social will take place right in the middle
of a
bustling 1900s San Antonio— complete with a
saloon, blacksmith shop, gun shop, newspaper,
telegraph office and jail. Attendees will "belly
up" to the authentic bar and saloon.